Review by: Alister Chapman
as seen on:
http://www.xdcam-user.com/2014/07/the-sony-pxw-x70-sometimes-good-things-come-in-small-packages/
Initial Thoughts
As the owner of a
Sony AX100
, which is a really great little 4K and HD camcorder I wasn't really all that excited when I saw the first prototype of the
X70
at Broadcast Asia back in June. You see in the past Sony have done this many times, taken a high end consumer camcorder, updated the firmware, added a handle and then sold it for a higher price as a pro camcorder. In the past, there has in reality been little difference between the cheaper consumer model and the more expensive pro version.
The handgrip on the Sony PXW-X70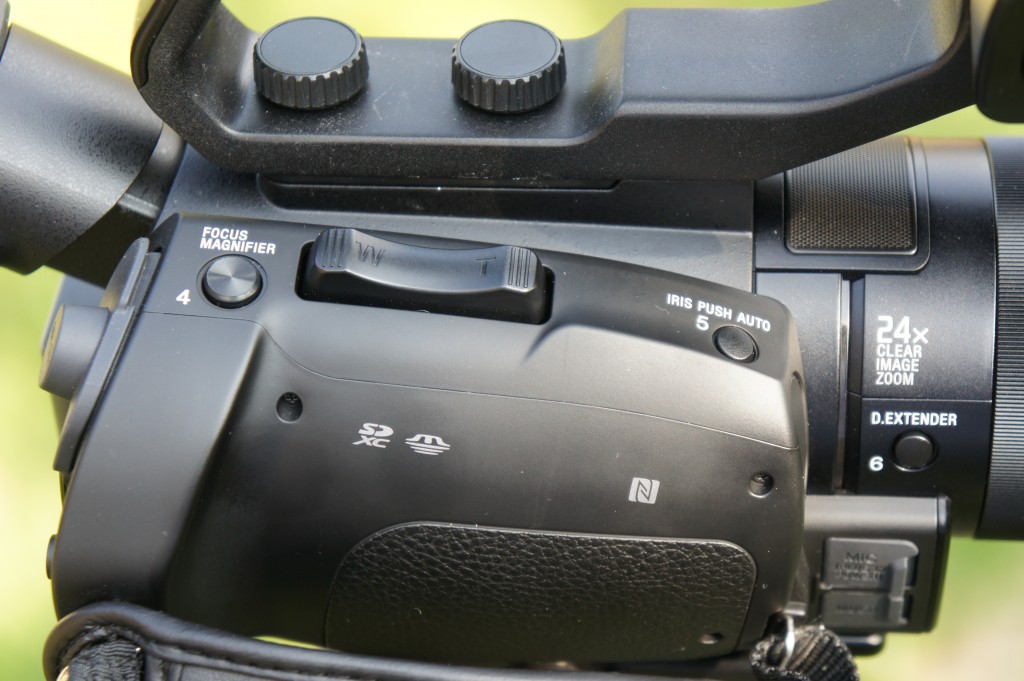 The
PXW-X70
is different. This is much more than an AX100 with new firmware. For a start the body of the camera is quite different. The right hand side of the
X70
is quite different to the
AX100
. It has a much fatter hand grip. This makes the camera much easier to hold comfortably for long periods. It also makes space for a full size HDSDI output and a full size HDMI output. But the differences don't stop there.
On the top of the hand grip there is a large assignable button that is normally set to act as a control for the focus magnification function. This button falls immediately under your index finger when your shooting. In front of this is a new larger and easier to use zoom rocker and then in front of that is another assignable button, this one set as a one push auto iris button – very nice!
At the back of the handle there is a small joystick that ends up under your thumb (just where it needs to be). This joystick can be used to navigate through the cameras menu system. So, without taking your hand out of the hand grip you can check focus, zoom in and out, set your exposure and go through the menu system. If only it was this easy on all of Sony's cameras! Ergonomically this camera is really good, especially when you consider how small it is.
The camera has a nice 12x stabilised, optical zoom lens, behind which sits a 1 inch 20 megapixel sensor. In video mode about 14 million pixels are used, so even in 4K (there will be a paid 4K upgrade option next year) there are more pixels than needed for full resolution. Rather than let this extra resolution go to waste you can activate Sony's "clear image zoom" function that works seamlessly with the optical zoom to give you a 24x zoom range in HD.
If 24x is not enough there is also a further digital extender, controlled by a button on the right side of the lens that doubles the digital zoom. This you can see, the image is a little degraded at 48x, but it's not terrible, might be handy for a breaking news story where you can't get close to the subject.
XAVC HD RECORDING:
The XAVC HD recordings are 10 bit 422 long GoP at 50Mb/s, 35Mb/s or 25Mb/s. The quality of the 50Mb/s recordings is amazing with no compression artifacts that I can see (there must be some, I just can't see them). Even the 25Mb/s recordings look really good. You can shoot at up to 60fps in 60i mode and 50fps in 50i mode. In 60i mode you also have 24fps.
The pictures really look like they come from a pro camera. Occasionally very fine, high contrast details like white text on a black background can look a little busy, but this is very minor. Dynamic range is quite respectable, it's not as good as a PMW-300, but not too bad for a compact handycam (I estimate about 10 to 11 stops of DR).
One thing I did find with this camera is that because there is so little noise and the codec is so good, you could quite comfortably shoot about a stop darker than you would normally and then just bring the image up a bit in post. Shooting a little darker helps the camera handle bright highlights and then in post you can just bring up the shadows and mid tones with a simple color correction to give a nice exposure. I wish I had realized this when I shot the demo video. I would have exposed a little on the dark side and then tweaked the shots in post. There's so little noise at 0db and so few artifacts that the image holds up to this really well. If your using auto exposure you can set an exposure offset to allow for this in the menu.
On the lens there is a single large control ring that can be used to focus the lens or to act as a manual zoom ring. The focus is responsive and although I don't normally like round and round servo focus rings this one wasn't too bad.
On the top of the camera you have Sony's new MI shoe (Multi-Interface) for connecting accessories like the supplied handle with XLR audio inputs. The supplied detachable handle is really well made and very secure when attached. One small note is that by default when you attach the handle to the MI-shoe the camera switches to XLR audio automatically by default. So if you don't actually have a mic connected to the handle you won't have any audio as the internal mic gets shut off. You have to go in to the audio section of the menu to enable the internal mic if you want to use the handle but want to use the built in mic.
If you want to do time-lapse or slow stuff down the camera has S&Q motion that goes from 1fps to 60fps at 1920×1080.
The camera has WiFi and NFC and allows remote control via Content Browser Mobile and simply touching an NFC enabled phone or tablet against the side of the camera will pair the camera with the phone or tablet. In the future following a firmware update you will be able to use the camera to stream your content live via U-stream.
Finally – build quality. It's really well made. It feels nice and solid, it feels like it will really last. Don't tell Sony, but I dropped the camera from waist hight while I was using it. It survived, no problem at all.
The large sensor, combined with the switchable built in ND filters gives you much greater control over the depth of field than normally possible with a compact handycam.